BMS Jr High team warming up after a 7th grade victory over Trumann 38-0.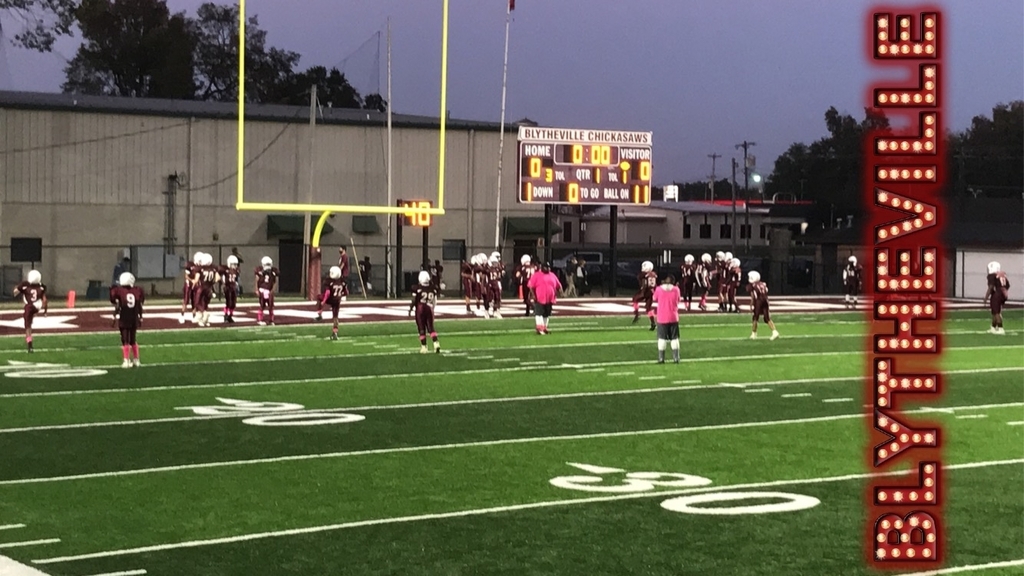 BMS 7th grade faces off against Trumann at home. Wearing pink to support breast cancer awareness.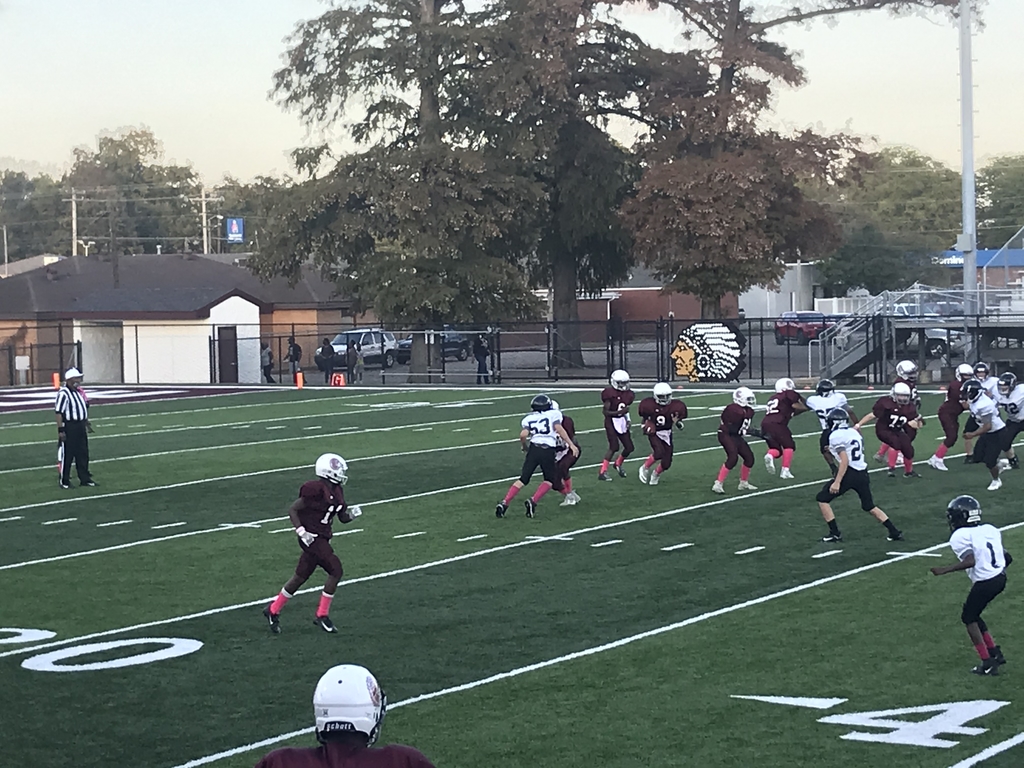 Do you charge your cell phone and air pods every night to have them ready for school? Then remember to charge your computers to be ready for the next day! #maskupChicks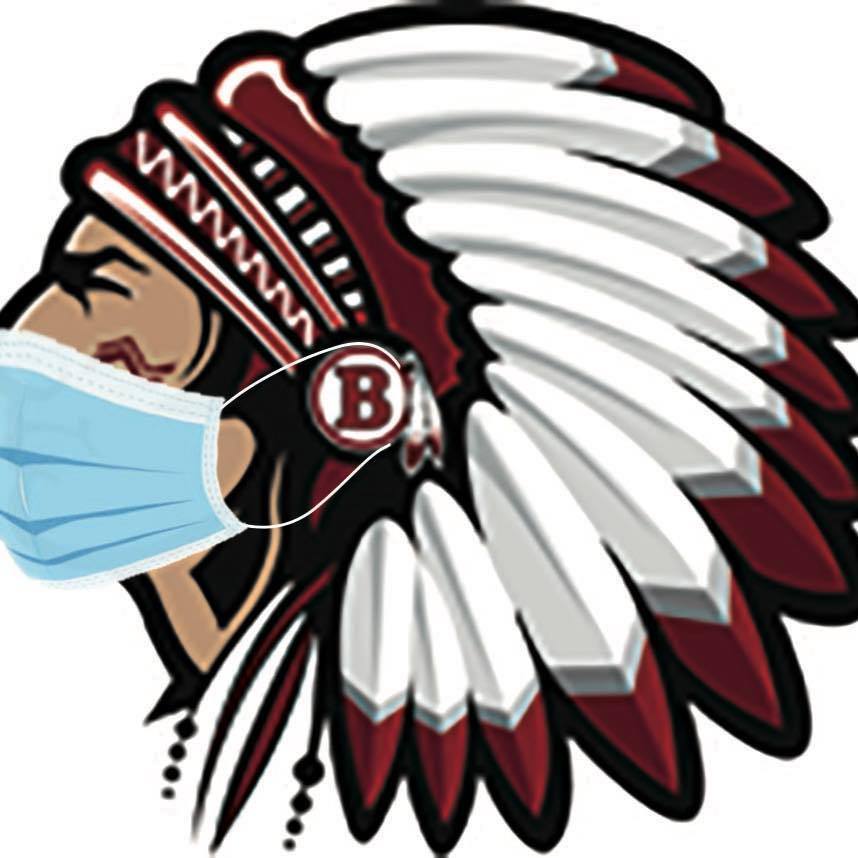 PINK OUT BMS ! In support of breast cancer, the week of October 26th-30th we are asking everyone at BMS to show your support of the fight to cure breast cancer. We know we are all virtual, but we want you to still dress up and take a photo. You can send the photo to me:
snash@blythevilleschools.net
. You may see it posted on Blytheville's Facebook page. The following are the themes we are wearing each day next week: Monday Fight for Our Lives Staff and students will wear camouflage and pink Tuesday Pink is more than a color it is an Attitude! Students will wear shades or a hat with pink. Wednesday Sweet Pink dreams. Staff and students will wear appropriate pajamas with pink. Ex. Pink top with pajama pants or a set of pajamas with pink. Thursday I'm a "jean"ius even in Pink! Staff and students will wear pink with jeans. Friday, Oct 30th Always Look on the Pink Side of Life! Students and Staff will wear all pink I can't wait to see your photos!!!!!!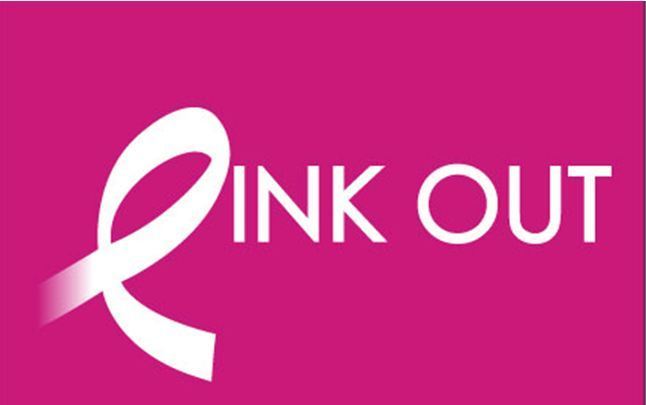 Due to continuing concerns regarding Covid-19, the Blytheville School District will pivot to virtual learning only for the next two weeks. Everyone will work from home on Monday, October 19 while the custodial staff fogs all rooms. All staff will return on Tuesday, October 20 and will work from their classrooms for the remaining two weeks. (During this time, all students will remain at home and will learn virtually.) While this date may change, all onsite students will return to school on Monday, November 2.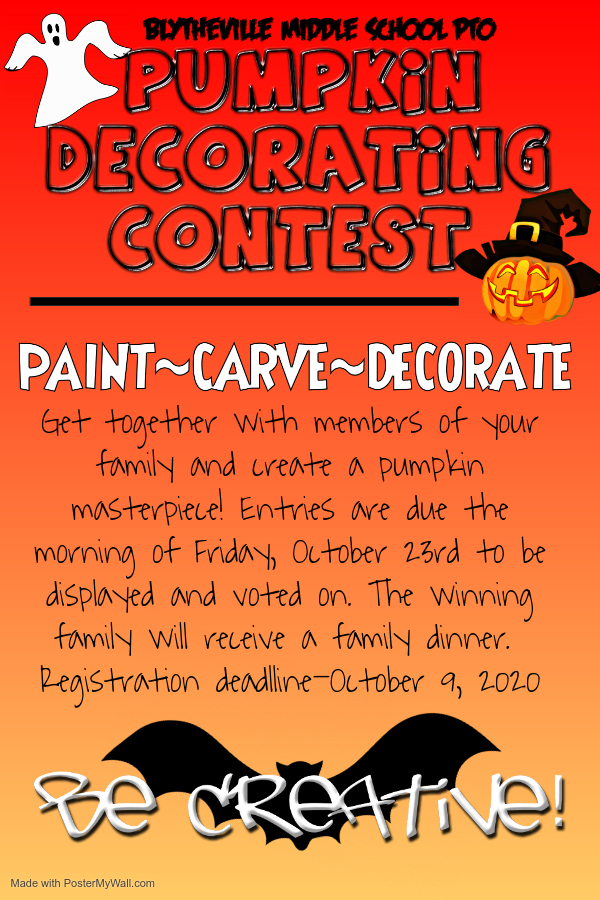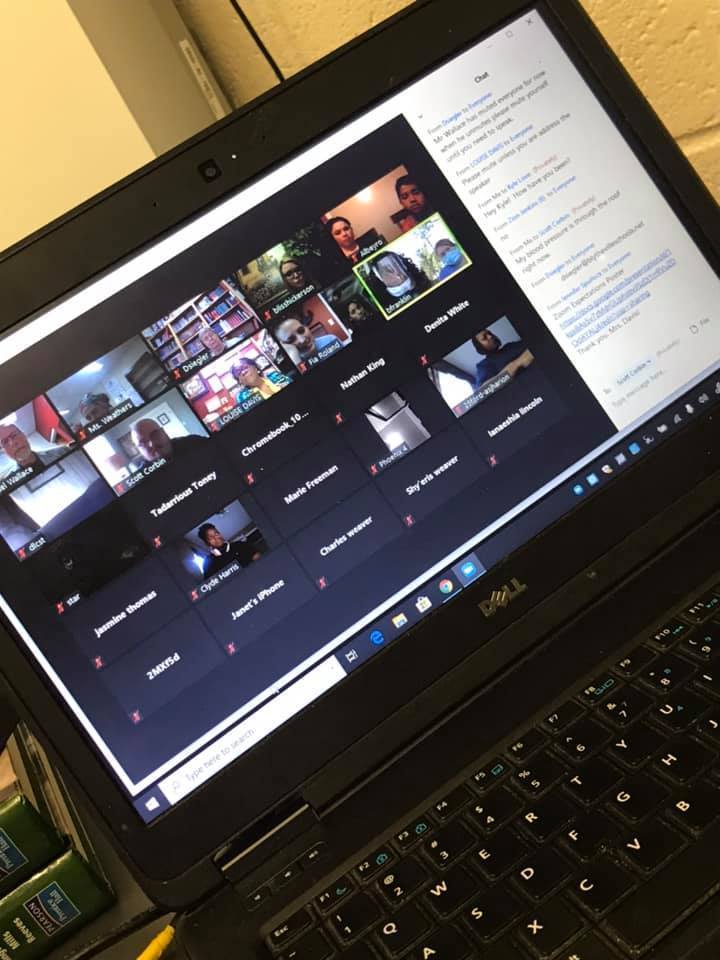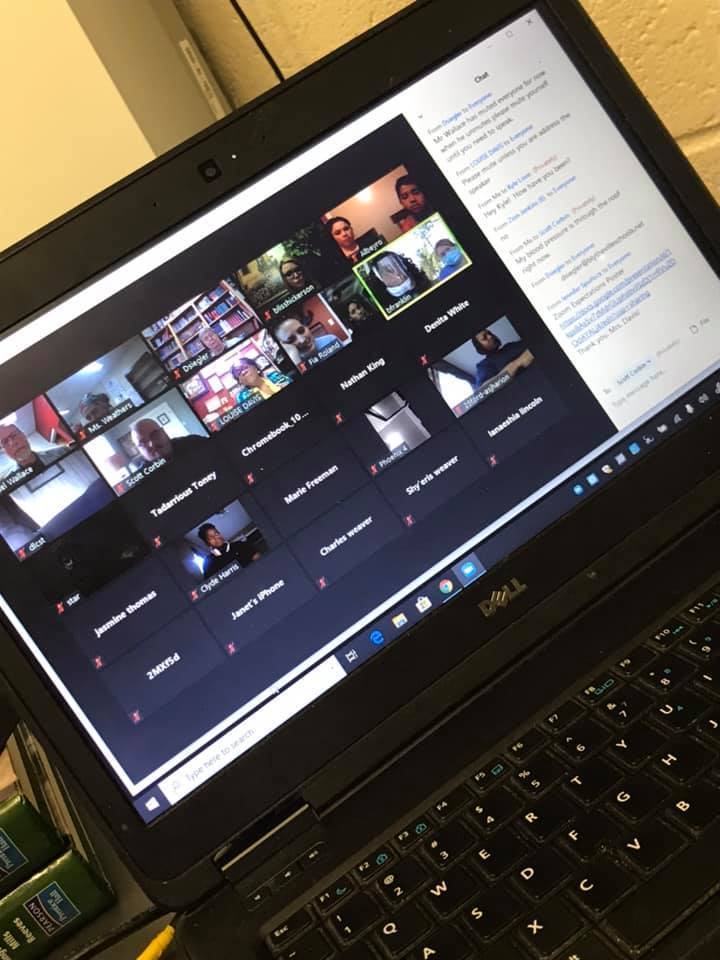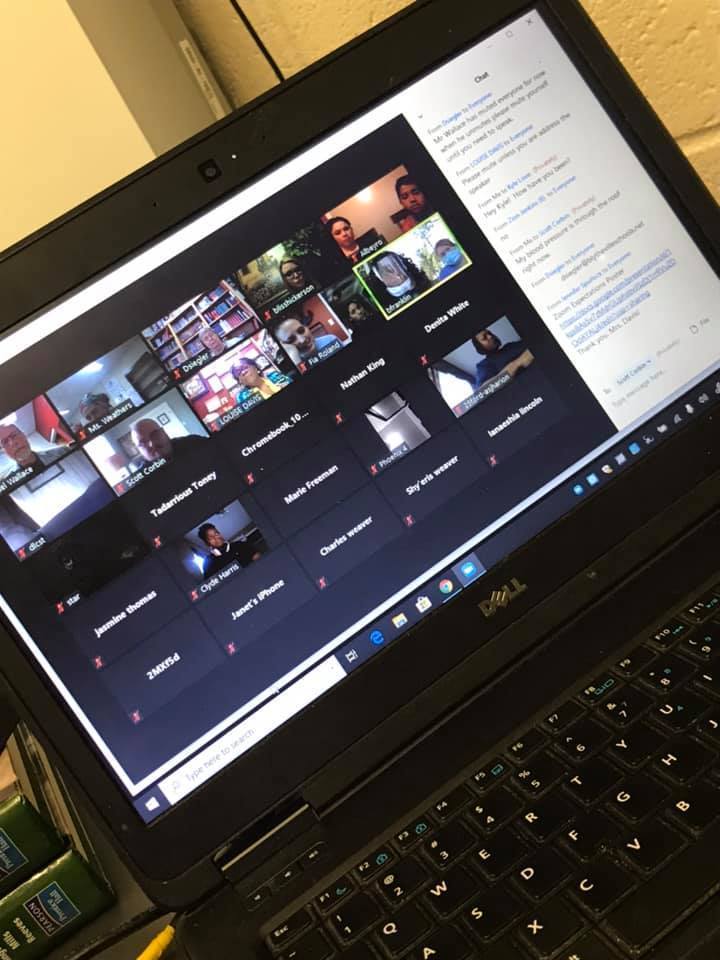 Blytheville Middle School will host a Title I Report to the Public tonight, Thursday, October 15 from 6 to 7 via Zoom. According to the National Center for Educational Statistics, "Title I, Part A (Title I) of the Elementary and Secondary Education Act, as amended by the Every Student Succeeds Act (ESEA) provides financial assistance to local educational agencies for children from low-income families to help ensure that all children meet challenging state academic standards." La Escuela Intermedia Blytheville presentará un Informe de Título I al público esta noche, jueves 15 de octubre del 6 al 7 a través de Zoom. Según el Centro Nacional de Estadísticas Educativas, "Título I, Parte A (Título I) de laPrimaria y Secundaria Educación Ley de, según enmendada por la Ley Every Student Succeeds Act (ESEA) proporciona asistencia financiera a las agencias educativas locales para niños de bajos recursos". familias de ingresos para ayudar a garantizar que todos los niños cumplan con los exigentes estándares académicos estatales ". ستستضيف مدرسة Blytheville Middle School تقرير العنوان الأول للجمهور الليلة ، الخميس ، 15 أكتوبر من 6 إلى 7 عبر Zoom. وفقًا للمركز الوطني للإحصاءات التربوية ، "يوفر الباب الأول ، الجزء أ (العنوان الأول) منالابتدائي والثانوي التعليم قانون، بصيغته المعدلة بموجب قانون كل طالب ينجح (ESEA) مساعدة مالية للوكالات التعليمية المحلية للأطفال من عائلات الدخل للمساعدة في ضمان تلبية جميع الأطفال للمعايير الأكاديمية الصعبة للدولة ".
Please read regarding breakfast and lunch for our virtual students.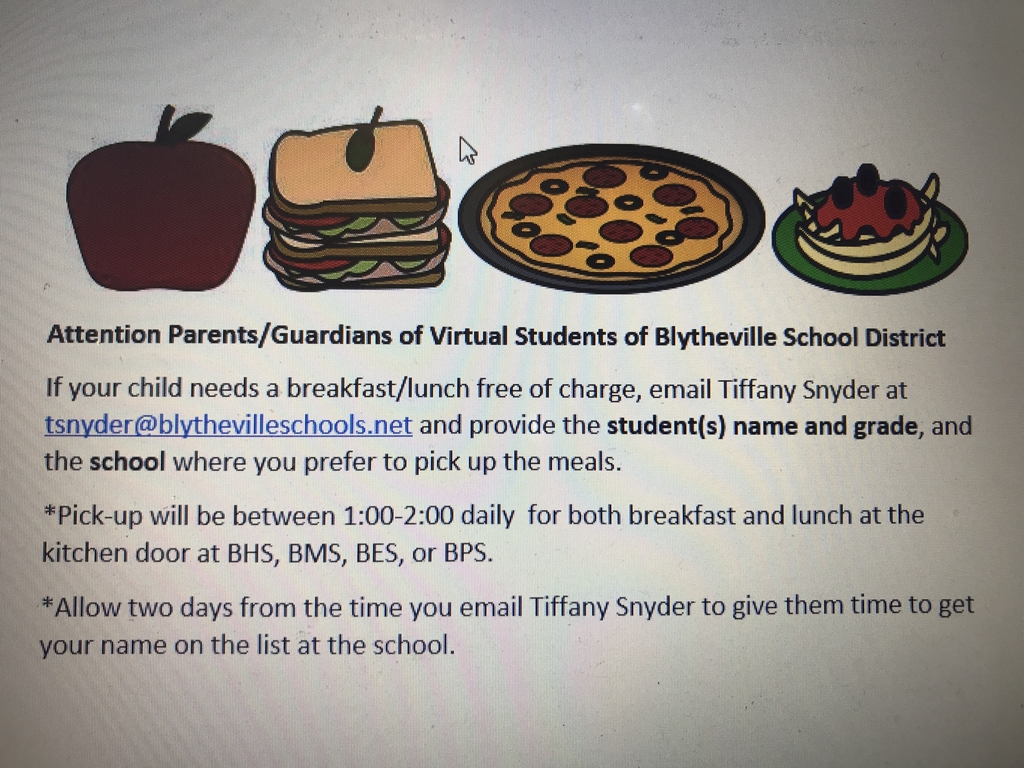 Thank you to all our parents and students that joined in BMS first Zoom Orientation. 70+ attendees!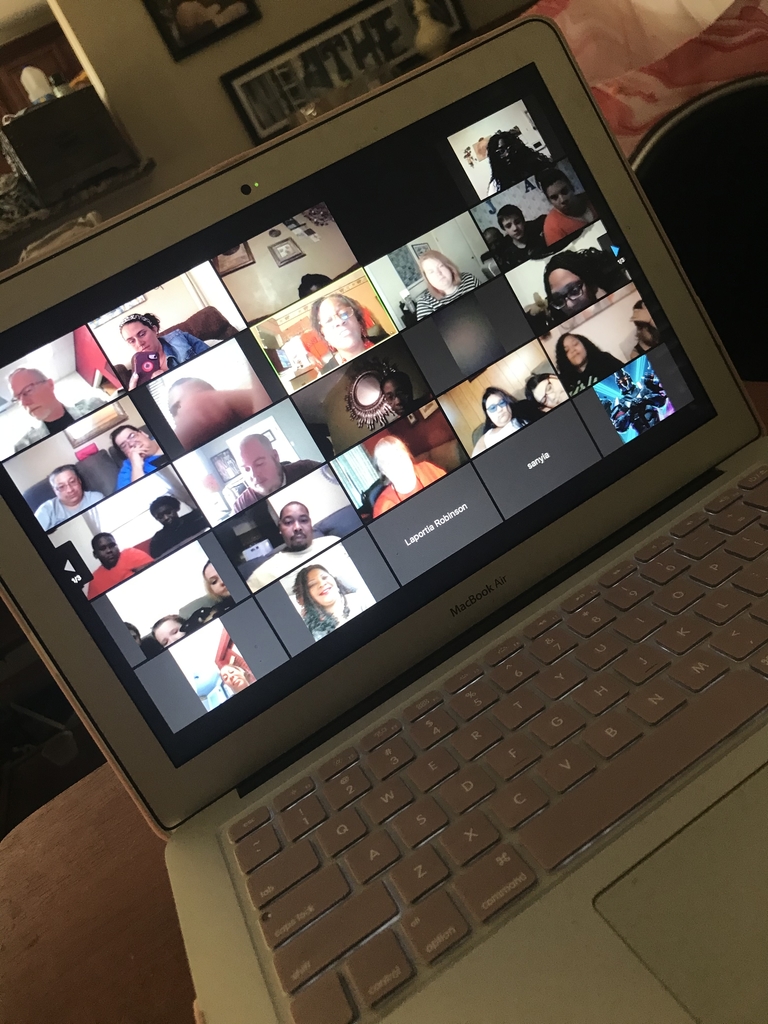 IMPORTANT Parents Meeting tonight and tomorrow on Zoom. Zoom information and links can be found on: BMS Facebook page, the BMS calendar on the website, or emailed to your student's BMS email.
Virtual Orientation - Parent Meeting by Zoom. Look at the calendar or Facebook for link to join the meeting.
For the first time in a long time teachers are back together in person. Social distanced, masked, and learning. #maskupchickasaws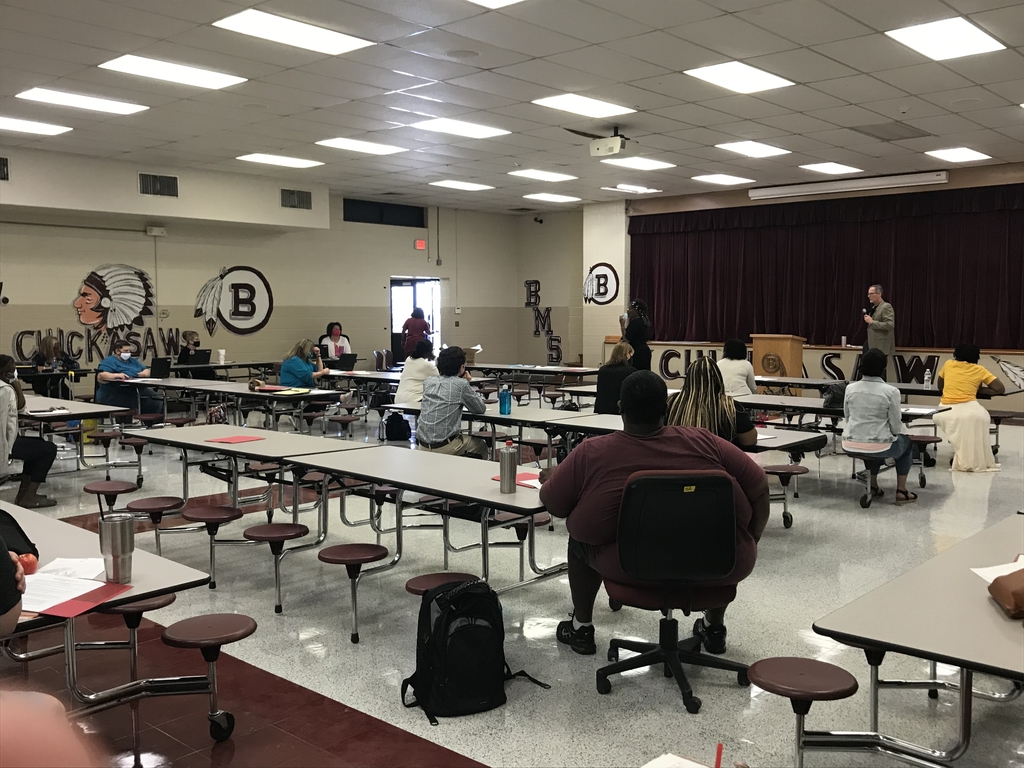 Please take a few minutes to complete this survey so BSD can make preparations to serve your children during the 2020-2021 school year. Please complete the survey by Thursday, June 18.
https://forms.gle/45qcDeT4TbfBRFax6
BMS Online Summer School June 15 -July 2. Registration packets at the school office!
BMS student Shaniqua Foreman won honorable mention & a $25 prize for her entry in the upcoming Juneteenth Celebration. She was entered in the category "Voices of the County."
BES and BMS faculty and staff are in professional development today. Thank you to Josh Varner for the information. #trauma