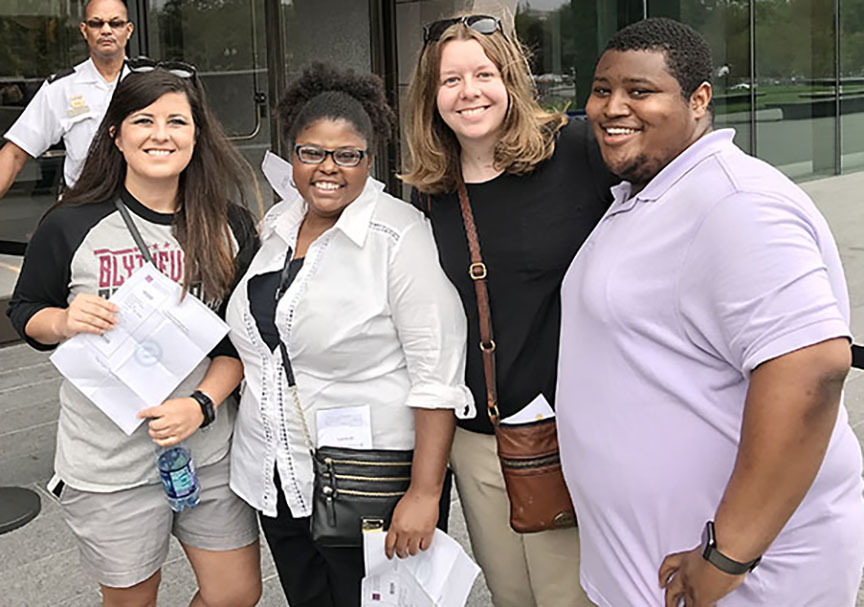 Blytheville residents among first to visit Washington museum
David Cooke
Wednesday, October 12, 2016
Courtesy photo
Blytheville residents (from left) Amanda Haynes, Dasnee McChristian, Brooke Siegler and DeAndre Ruffin prior to going through the doors to the National Museum of African-American History and Culture. The four were among the first-ever public visitors to the museum, which opened on Sept. 24.
By DAVID COOKE
Blytheville Schools PR Director
Amanda Haynes, social studies teacher at Blytheville High School, was in Washington a couple of summers ago when she passed by the location where the National Museum of African-American History and Culture would be built, and thought to herself how nice it would be to come back when the museum opened. Two years later Haynes and three of her friends were among the first people to arrive at the museum, and even now all she can say is how fortunate she was to have had that opportunity.
Haynes, Dasnee McChristian, Brooke Siegler and DeAndre Ruffin flew from Memphis on Sept. 22 and arrived at the museum, on the National Mall in Washington, on Sept. 24. McChristian is a teacher at Blytheville Middle School, Siegler is a TRIO advisor at Arkansas Northeastern College and Ruffin a graduate student at Arkansas State University working on his master's degree in accounting.
The Trip Begins Online
The journey to Washington actually started when Siegler awoke early on a Saturday morning weeks earlier and requested, eventually receiving, four free tickets to the museum. "The museum announced their opening weekend in February and I immediately sent a text to Amanda, Dasnee and DeAndre, telling them we needed to start planning our trip," she stated. "We had gone to Washington after our college graduation (2014) and talked about going back whenever it was finished.
"I got the tickets for the museum on Aug. 27. They released time passes early that morning and I was on the website as soon as they were available. I managed to get tickets for the earliest available time slot."
The four arrived for opening festivities at approximately 10 a.m., with those festivities lasting nearly two hours. The dedication ceremony included speeches from Lonnie Bunch III (museum's founding director), President George W. Bush, Chief Justice John Roberts, Congressman John R. Lewis and President Obama. The public also heard performances from Angelique Kidjo, Stevie Wonder and Pattie Labelle.
U.S. Rep. Lewis (D-Georgia), who helped organize the March on Washington in 1963 and played many key roles in the Civil Rights Movement, first authorized the bill in April 2003 but, added Haynes, "'it took 100 years for the museum to become a reality.'"
For McChristian, the three-day trip was one of the best experiences of her life. "Going into it, I figured it would be just another fun trip I took with my friends, but it became so much more than that," she said.
"I have never been more aware of myself than when I went to the dedication ceremony. Of course, the museum is for Americans in general, but looking at the hundreds of black faces and seeing their emotions as Rep. Lewis and President Obama spoke made me realize that that's what I wanted to see in my students' faces."
The museum's above-ground floors feature an inverted step pyramid surrounded by a bronze architectural material, which reflect a crown used in Yoruban culture. (the Yoruba people are an ethnic group of Southwestern and North central Nigeria as well as Southern and Central Benin). "I was just overwhelmed by the sheer size of the museum," said Haynes. "And the fact that the museum goes another 70 feet below ground doesn't tell a person how big it actually is." In all, the museum is 350,000 square feet, with three stories below ground and five above ground.
Haynes, McChristian, Siegler and Ruffin were some of the first-ever citizens to tour the museum (various celebrities and other public figures had been admitted in private functions). They entered the museum at 2 p.m. and left at 5:30 p.m. After passing through the gift shop on the ground floor, they went to the second floor and toured the interactive gallery and then went to the basement, beginning their tour with an African-American's view of the history of slavery. The tour took them through to the present day, with the 2008 election of President Obama.
Among Haynes' high points at the museum was standing in line for a "funeral" and eventually seeing the actual casket where 14-year-old Emmitt Till's body lay in 1955 after he was murdered, and also a segregated Southern Railroad train car. "Based on my teaching of social studies, I was tremendously excited for the opportunity to visit the museum," she went on to say. "And when I returned to school on Monday morning, my students 'peppered' me with questions, wanting to know what it was like.
"When a person witnesses history first-hand, such as us touring the museum, it allows that person to bring a number of things back into the classroom. You're able to see things from other people's perspectives."
"Shoulders of Giants"
A quote from President Obama really comes to mind, added Siegler. "He said, 'I'm here because someone marched. I stand on the shoulders of giants. I thank the Moses generation but we've got to remember now that Joshua still had a job to do. There are still battles that need to be fought, some rivers that need to be crossed.'"
McChristian added that going into the museum, she thought she knew everything she needed to know about African-American history. "Then we spoke to a woman who attended school in Covert, MI, and the school she attended had been integrated since the late 1800s, and the kids and adults got along just fine," McChristian stated.
"As a teacher, I thought about how I want my students to be aware of the rich history that African-Americans have. It's not all about slavery and racism. The way black musicians influenced jazz and blues, the way black athletes have set world records, the way black intellectuals contribute to the world of literature and arts are all things we should be teaching our students."