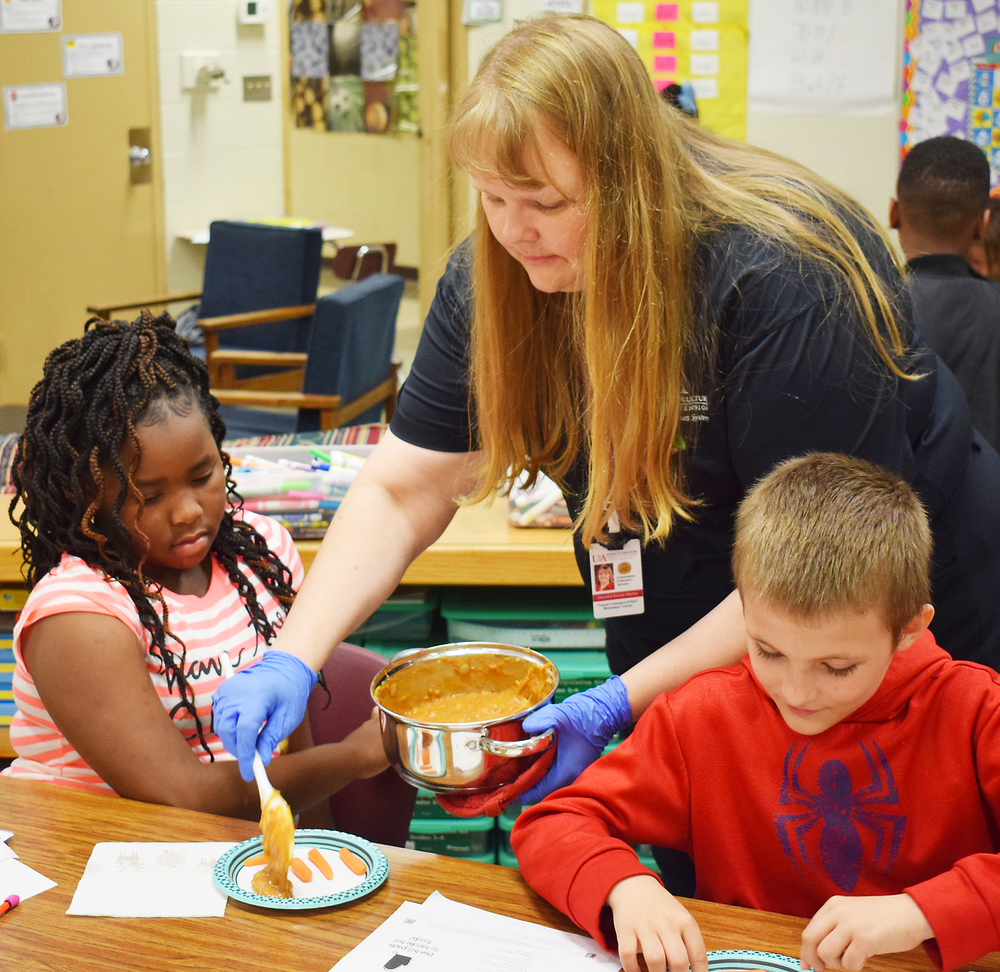 Program promotes healthy eating
David Cooke
Monday, June 11, 2018
Saundra Harms distributes Ole' Frijole's Dip to the third-graders in Courtney Flood's classroom during their May 9 "Kids in the Kitchen" lesson at Blytheville Elementary School. Harms, nutrition educator with the University of Arkansas Cooperative Extension Service's Division of Agriculture, just completed her third year at BES teaching students about healthy eating habits.
By DAVID COOKE
Special to the Courier News
Blytheville School District teachers and administrators are partnering with the University of Arkansas Cooperative Extension Service's Division of Agriculture for its "Kids in the Kitchen" program, an effort that teaches students about nutrition, specifically healthy eating habits. Targeting third-graders, the partnership is a way to help students and their parents develop healthy eating habits while at the same time fighting childhood obesity.
The mission of educators in the Expanded Food and Nutrition Education Program, said nutrition educator Saundra Harms, is to empower individuals, families and youth with limited resources to acquire knowledge, skills, attitudes and behavior changes necessary to maintain nutritionally sound diets and enhance personal development. "In selecting 'Kids in the Kitchen', "state EFNEP staff chose a curriculum county level educators can use to carry out the mission of EFNEP when working with youth. The 'Kids in the Kitchen' lessons encourage young people to eat healthier meals and snacks as a result of hands-on cooking experiences."
Harms, who works out of the Cooperative Extension Service's Mississippi County office, has been at Blytheville Elementary School for three years.
According to the Dietary Guidelines for Americans 2015-2020, vegetable consumption, as an average among all Americans, is below recommendations. Specifically, she stated, it is lowest among boys ages 9-13 years old and girls 14-18 years old.
During the 'Kids in the Kitchen' lessons Harms touches on a wide range of areas that all happen to come together in a fun lesson. "As examples, we learn about germs and bacteria when we talk about the importance of handwashing before preparing food or eating," Harms said. "In one lesson the students learn that vegetables are all parts of plants - roots, stems, leaves, seeds, fruits and flowers. They are frequently surprised to learn they are eating the flower part of a plant when they eat broccoli. In another lesson, we learn how to properly use dry measuring cups. I have bins of rice the students use to practice filling a measuring cup and then leveling it off.
"In addition to health and science, cooking skills use a lot of mathematics. Ms. (Lauren) Starks of BES asked me to incorporate a math problem into each lesson. In one math problem students are asked to use the nutrition facts label from baked chips to figure out about how many chips are in one bag. In another problem, they are asked to double a recipe. Many recipes also contain fractions, another form of math."
Harms also tries to incorporate a physical activity into each lesson. She brought out that many students do not engage in the recommended minimum of at least 60 minutes of physical activity per day at home. "Research has indicated a positive link between yoga practice and youth outcomes," said Harms. "Yoga can help youth improve their physical fitness, manage stress and improve academic performance.
"I have been trained to teach the Cooperative Extension Service's award-winning Yoga for Kids curriculum. In each lesson I introduce a series of yoga poses and encourage the students to try their best. Sometimes I capture their imagination when I work the yoga poses into a story such as going on a hot air balloon ride where we encounter a gorilla, a parrot perched in a tree and pretend we are frogs jumping about."
Harms and Courtney Flood's third-graders spent part of an afternoon May 11 learning how to make "Ole' Frijole's Dip", consisting of low-fat refried beans, taco sauce and cheese. In each of the recipes Harms brings with her the ingredients in a plastic container instead of opening cans or bags. Other recipes she has tried with her students include raw vegetables with yogurt dip, Farmers' Market Salsa, wheat combo snack mix and trail mix.
Starks, BES' math facilitator, said that third-graders tend to eat a lot of processed foods, fast foods, cakes and pies. "By Ms. Harms teaching them to eat healthier foods, and even learn recipes that include healthy foods, our school is trying to guard against childhood obesity," she stated. "Much of this, however, concerns portion control, such as establishing certain amounts of food and eating only those amounts. Ms Harms also helps the students to be able to pick out fresh fruits and vegetables when they go to the grocery store."
Anecdotally, Harms believes the students really like the 'Kids in the Kitchen' lessons. "I have had past students give me hugs and start talking to me in the grocery stores," Harms revealed. "Last week I had several students tell me they didn't think they would like the bean dip we prepared in class. But after tasting it, they said they liked it and would share the recipe with their parents."
However, Harms said she can also support her statements with facts. "During the first lesson I present the students a pre survey, and during the last lesson they complete a post survey," she said. "Based on the answers of BES third grade students from the previous school year, 96 percent of them improved in at least one core area, 88 percent improved their knowledge or skills necessary to choose foods consistent with Federal Dietary Guideline recommendations and 61 percent gained knowledge, skills or behaviors necessary to improve their physical activity practices."
In terms of proven success and "to make the program better", Harms wishes she could spend more time with each student. "I am only one person and I have additional job responsibilities," she added. "As much as I love working with youth, I equally enjoy working with Mississippi County adults. In working with youth, I see enthusiasm and hope. In working with adults, I see people who can and do make changes so the youths' enthusiasm and hope can become reality."