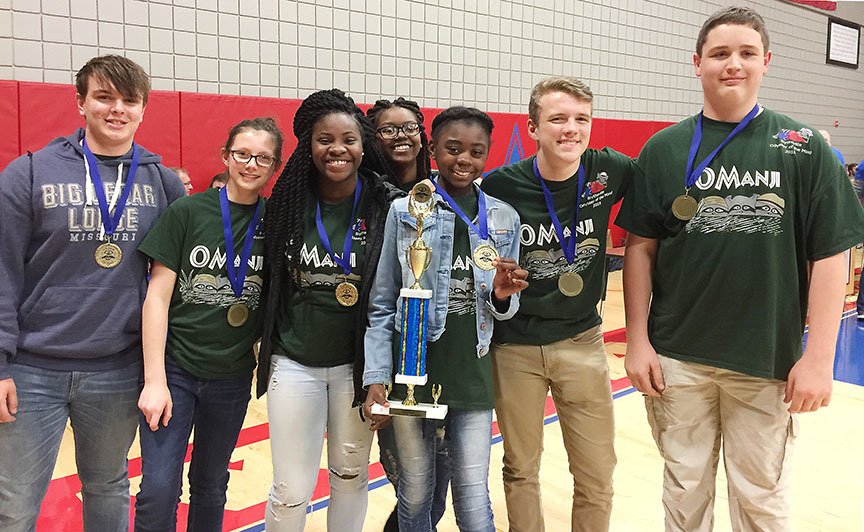 BHS/BMS, BES OM teams both win state
David Cooke
Monday, April 16, 2018
Members of the Blytheville High School/Blytheville Middle School Odyssey of the Mind team that earned first place in Division III, Animal House at the Arkansas State OM competition April 7 in Springdale are (from left) Jacob Pruett, Gatsby Langston Brown, Jasmine Johnson, Diamond Henry, Shamari Cooper, Conner Frazier, Wills Gullic, (not pictured) coaches David Gullic, Amy Louise Gullic and Susannah King.
By DIANE HAY
Special to the Courier News
Students from the Blytheville School District again stood out at the April 7 state competition of the Odyssey of the Mind at Springdale, with the teams from Blytheville High School/Blytheville Middle School and Blytheville Elementary School both bringing home first-place finishes.
May 23-26 will be the 39th" OM World Finals on the campus of Iowa State University in Ames, Iowa. The competition emphasizes creativity and teamwork and has grown into the largest international creative problem-solving competition worldwide. Millions of kids have been working hard all year perfecting their solutions to OM problems and competing within their region and state. Only a few will advance to World Finals; these teams represent the best of the best creative minds. Our Blytheville teams have placed well at past World Finals and we hope to do so again this year.
"As the OM year progresses, our team continues to amaze us with their dedication, knowledge and creativity, as well as their numerous other gifts and graces", said coach Amy Louise Gullic. "We truly have an incredible bond … we are a family. Susannah, David and I are humbled and blessed to be the coaches of 'Team Honey Pot.'"
"These kids are shining examples of what good can come out of Blytheville", commented the BES coach Curtis Walker, Jr.
I want to personally congratulate these teams because they worked so hard and performed so well. There was stiff competition this year. "We must be doing something right here in Blytheville," stated Hay.
While the competition is fierce, there is also a feeling of camaraderie among competitors. Many students form lifelong friendships that span the globe. At World Finals teams have the chance to learn about other cultures through a common goal, which is to be as creative as possible.
"I'm looking forward to seeing what these teams can do in Iowa this year. They are well prepared and very creative," said Hay.
"I will say again that the teams from Blytheville have always shown the best manners during the competitions. We usually take the students to eat at a local restaurant on the way home from the competitions, and they never cease to amaze me with their politeness and appreciation for what we do for them," said Hay. "These kids really appreciate these opportunities."
span class="Apple-converted-space"> We are always in need of volunteers as coaches and judges each year. Our program heavily depends on volunteers to work with these students, and training is available for those who are interested. Further information on the Odyssey of the Mind program may be found at www.odysseyofthemind.com and www.arkansasom.org.
We need much from our community this year by way of donations and support to help our teams get to World Finals. We have to take a charter bus to transport these teams and all of their props together, and that mode of transportation can be costly. This year we are asking for donations to help us pay for this expense. The amount is approximately $7,000 this year.
The teams also have to pay around $15,000 for registration, lodging and meals. While $22,000 sounds like a huge chunk, it is so worth it for these students to be able to show what they have learned all year through teamwork, creativity and problem solving. They have to pass through region and state competitions to advance to World Finals. Please consider sponsoring a child for this event.
We are taking donations for our World Finals Booster Club. These donations may be sent to Diane Hay at the Blytheville Middle School, 700 West Chickasawba, Blytheville, AR 72315. All donations may be tax-deductible. Please help us help our kids realize their dreams of competing on such a grand level against many other teams from all over the world.
We will be at Mayfest with our dunking booth and games. You will see the teams out raising funds through May 21. Please come by our booth and support us in our efforts to raise funds for room and board and transportation to World Finals.